Exclusive material is available to fan club members.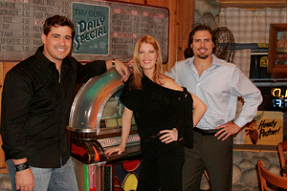 JOSH GRACIN MAKES ACTING DEBUT
, 6.26.06
Josh Gracin will make his acting debut on daytime's Number One drama, THE YOUNG AND THE RESTLESS, Thursday, June 29 on the CBS Television Network. Gracin will play a character named Jake, who runs into a stranded Phyllis (Michelle Stafford) and Nick (Joshua Morrow) in a country bar in New Mexico.

Gracin has found huge success in the country music arena, with three consecutive Top 5 singles from his RIAA Gold certified self-titled debut CD. In 2005, he was one of only two new artists, along with Gretchen Wilson, to have three consecutive Top 5 singles. His Number One hit "Nothin' To Lose" is certified Digital Gold by the RIAA.

THE YOUNG AND THE RESTLESS has been the Number One rated daytime drama for more than 17 years and is in its 34th season. The show is broadcast weekdays (12:30-1:30 PM/11:00 AM-12:00 PM ET/PT) on the CBS Television Network.

Bid on Josh Gracin items in the Opry.com Auction!
, 6.22.06
Visit Opry.com through June 26 to bid on fabulous items autographed by Josh Gracin and others during this year's CMA Music Festival! Items with Josh's autograph that are up for bids include a Grand Ole Opry denim jacket, an Epiphone guitar, a limited edition Great Opry Drive In t-shirt, a straw cowboy hat, and a black Opry t-shirt. Click Here to see the items and bid now! The auction ends June 26, so hurry! All proceeds go to the Opry Trust Fund which assists members of the country music community in need.

JOSH GRACIN TO BE FEATURED ON CMT UNSUNG STORIES
, 6.14.06
CMT will feature Josh Gracin and songwriter Marcel in the new series, Unsung Stories. The pair craft a song for Army Medic Billie Grimes whose training as a trauma medic came into play to help treat two soldiers and two civillian journalists in Bagdhad when their Humvee was rocked by a grenade explosion. "I did what I am trained to do," says Grimes. "There wasn't time to think about what to do. I reacted like it's second nature." Tune into CMT to see Josh Gracin on Unsung Stories, Friday, June 16 at 10 pm Eastern.

GRACIN GOES TO WASHINGTON
, 6.13.06
Country artist Josh Gracin has been invited to perform at two of Washington, D.C.'s most prestigious events; the annual President's Dinner on June 19th and a USO Event at the Pentagon on June 14th, celebrating the Army's 231 years of service to our nation. As a former marine, Gracin is delighted to have been asked to play such a key role in these celebrations.

"Being in our nation's capitol always has had a special meaning for me," said Gracin. "Even though my time in the Marines may have expired, I'm happy to know that my passion for music can bring joy to those that continue to serve our country. I'm deeply honored to sing in front of the President of the United States, along with the other people who help make our nation what it is today."

The President's Dinner is the largest political gala in Washington, D.C, with 6,000 people in attendance, including Speaker of the House Dennis Hastert, the U.S. House of Representatives, and the U.S. Senate. This impressive event is produced by a joint committee; the National Republican Congressional Committee and the National Republican Senatorial Committee. Also set to perform that evening is Gretchen Wilson, who along with Gracin was one of only two new artists to have three consecutive top five singles in 2005.

On June 14th, the USO is holding an Army birthday celebration at the Pentagon, which pays tribute to our Soldiers and civilians who have sacrificed so much to guarantee our nation's freedom. The event will be hosted by the Secretary of the Army, and will feature some of the Army's most prestigious ceremonial units from the Military District of Washington (MDW) including the Old Guard's Fife and Drum Corps, Continental Color Guard, and the U.S. Army Chorale. Soldiers, Future Soldiers, veterans and invited guests including 28,000 Pentagon employees are expected. Gracin will be performing after a musical prelude by the U.S. Army Chorale, and the traditional cake-cutting ceremony.

Gracin was one of only two new male performers that had his debut album go Gold last year, and his current single "Favorite State of Mind" from his upcoming album on Lyric Street Records, continues to climb the charts.

JOSH GRACIN TO JOIN ADAM SANDLER AT THE MICHIGAN INTERNATIONAL SPEEDWAY
, 6.5.06
BROOKLYN, Mich. – Josh Gracin has performed live and on television for thousands of people, and now he will entertain the largest single-day sporting crowd in the state of Michigan.

Born and raised in Westland, Michigan, Gracin returns to his home state on Sunday, June 18th to perform The Star-Spangled Banner at Michigan International Speedway prior to the NASCAR NEXTEL Cup Series 3M Performance 400. The race will be televised live on FOX.

"We are thrilled to have Josh Gracin join us to perform for our first weekend of the season. Not only is he an extremely talented vocalist, but we know our fans will enjoy having a Michigan native help honor our country," said Brett Shelton, president of MIS. "Having Josh at MIS is a great addition to pre-race ceremonies to start our season."

Gracin will join actor and comedian Adam Sandler in the pre-race ceremonies. Sandler has been named the Grand Marshal for the 3M Performance 400 and will deliver the traditional command to start engines.

Josh Gracin's self-titled debut CD is certified gold by the RIAA and has sold over 650,000 copies. The first single from the project, "I Want To Live," was also his first hit – climbing the charts to #4 in country radio. Josh's second single, "Nothin' To Lose," was his first #1 record. His third single "Stay With Me (Brass Bed)" was a Top 5 hit, giving him three consecutive Top 5 songs in country radio. Josh will release his second CD, featuring the hit single "Favorite State Of Mind," later this year.